We've got some exciting news to share with you!
The first two novels of the Ascending Mage series are published and available on Amazon (product links at the bottom of this post).
We're pleased to have sold just shy of 1,000 copies in the first 18 days of being available to the public. We will break the 1,000 mark by the end of today—Day 19 since publishing the first book.
Our books have now been purchased in six countries: the USA, UK, Canada, Australia, Germany, and India.
Here's a screenshot of our sales graph as of time of this post (blue is for Ascending Mage 1, orange is for Ascending Mage 2):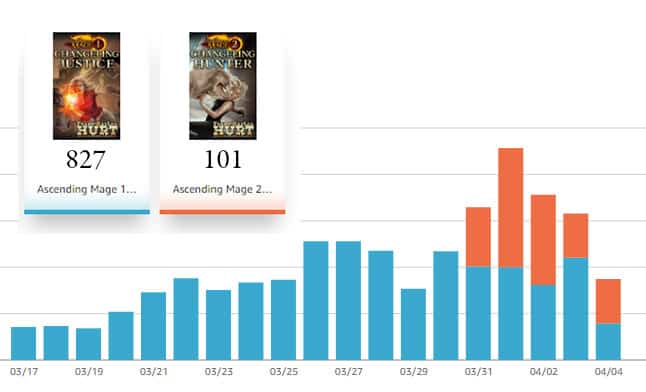 This launch exceeded our goals.
Ascending Mage 1 managed to briefly break into the coveted Top 100 Urban Fantasy titles and crested at #1,503 overall in the Amazon Kindle Store. You can read about our launch week impressions here.
We decided on a "soft launch" strategy to ensure the Amazon recommendation algorithms would get properly trained before we made the wider announcement to friends and family via social media. This launch was powered by a bevy of targeted advertising and discounted pricing (we've got the first in the series priced at just 99 cents).
In other words: we're not exactly getting rich off our stories! And that's by design; we're in this for the long haul. Attracting new readers is our priority, with return on investment expected over time.
Of course, we're just getting started.
About the Ascending Mage series
The Ascending Mage series is a modern fantasy thriller set in North Dakota. These stories feature a kick-ass heroine who just so happens to be a uniquely powerful mage. The novels (five are in the works with more planned) follow Ember Wright's evolution even as she faces ever tougher opponents.
If you're interested, you can get your copies here: