Everyone has regrets.  Anyone who says they have lived life without any regrets is either lying, they are not introspective, or they are a narcissistic sonofabitch.
My greatest regrets in life have been when I ignored my instinct.
Most of the time, these were professional decisions:  I allowed distractions to keep me from fully developing a software idea I started, even though I knew that the concept had great potential. I ignored my instinct and chose instead to "play it safe" by focusing on contract work rather than venturing into the wild unknown.  More than a few of "my ideas" were later developed into competitive products by other people.  A classic case of "Hey, I had that idea four years ago!  If only I had trusted my instinct."
I sometimes hired designers and programmers who I liked as individuals, even though they didn't necessarily perform at the capacity I needed them to.  Against instinct, I hired them anyway, and against instinct I often kept them on the payroll even after it became clear that they were not up to the tasks.
More than a few times, I made decisions in my personal life in which my instinct was screaming at me to change course.  "Don't date her, she's a basket case!"  "No, it's not ok to carry credit card debt so you can buy a better paintball gun."  I dismissed that inner voice just so it could later tell me "I told you so!"
Instinct needs to be honed.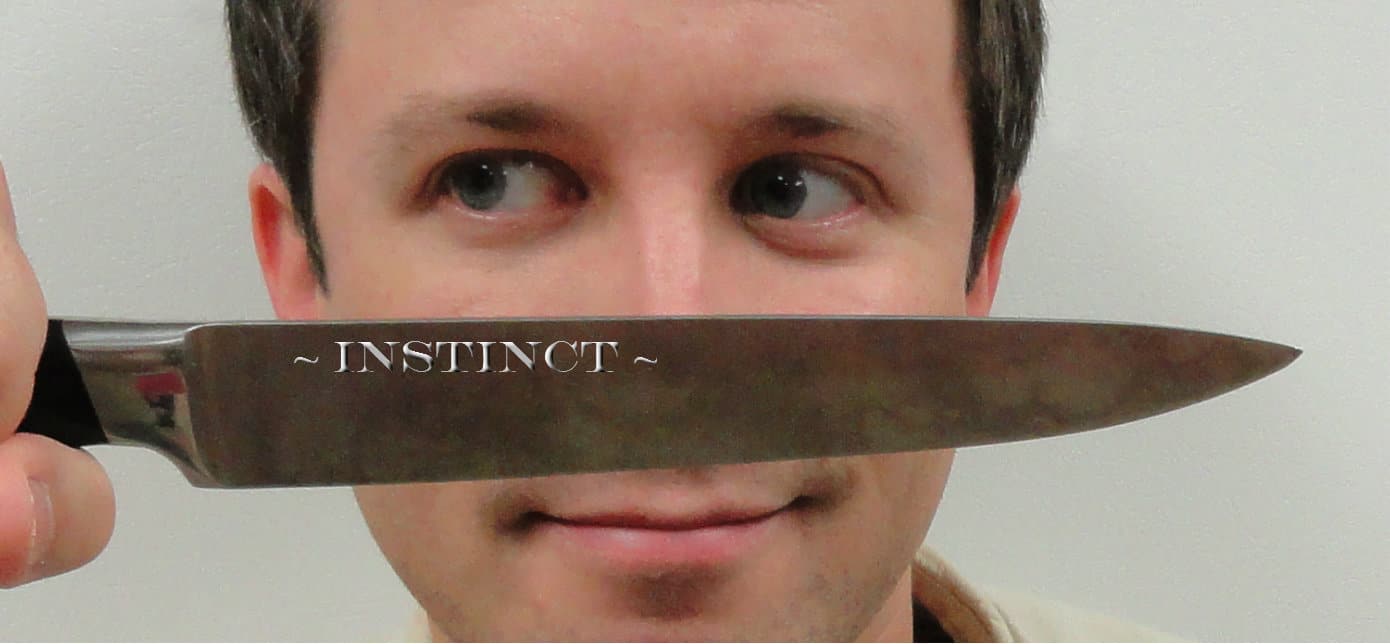 Instinct needs to be honed.  We don't necessarily possess great instinct as young adults, so it probably stands to reason that it is normal when we find that our choices aren't always optimal.  If instinct is a sword, it's got a dull edge when we're in our 20's.
Eventually, we gain enough experience and study the consequences of our decisions. The Blade of Instinct gets sharpened.
For me, it took crushing six-figure debt, a divorce from my wife of ten years, and a significant career change–all happening at once.  I couldn't ignore my instinct anymore, and I was forced to make difficult decisions which were pretty scary for my 32 year old self.
What at the time seemed like an overwhelming rock slide of bad events turned out to be exactly the whetstone I needed.
Fast forward just a few short years, and I'm debt-free, I have a wonderful new Wife 2.0, and my career is empowering and rewarding.
I didn't declare bankruptcy like I feared I would have to.  I instead trusted my instinct and became a rabid budgeter, slicing out anything I didn't need (such as eating out, cable TV, all hobbies, any unnecessary driving). I pushed hard by volunteering to fill in for coworkers at the new job, asking lots of questions, and reading lots of books. I used my off hours to tackle freelance projects. It took sacrifice and time, but the credit card balances whittled down with each month.  Then, the student loans and mortgage fell too.
I stumbled upon future Wife 2.0 (aka RaeLea) and even though I swore I would never remarry, my instinct told me that I had found a rare gift.  She has an even stronger work ethic than I do.  She shares my values, supports my dreams, and she appreciates the benefit of sacrificing short-term comforts in exchange for long-term objectives.  I trusted my instinct, and Mrs. Hurt has proven to be a true partner.  Life is hard to handle by one's self. A partner sure is nice to help carry the burdens and to celebrate the accomplishments with.
What proved even tougher for me than the change of relationship (difficult as that was) was the change of careers.  I dreamt of being an entrepreneur since I was a kid, and I started my website development business back in 1999.  To go out and get a "real job" felt like giving up on that dream.  It felt like I was giving up on my clients. In short, it felt like failing. It took me awhile to get past that feeling of failure.  I will write more on this subject in future articles on this site.
The challenges that come with geosteering an oil drilling rig are, at first glance, wildly different from running a website development firm. The culture, interpersonal politics, and work environment couldn't be more opposite.   Wellsite geology is a highly technical job and yet there are enough ill-defined variables that it does require a sort of "sense" which only comes from experience and careful observation. This new career, as it turns out, benefits from strong computer skills and a sharpened instinct.
I cannot erase my mistakes, but I can learn from them.  I no longer doubt my instinct.  I know my Blade of Instinct will continue to become stronger and sharper over time.
Trust your instinct;  it might just surprise you.