About a year ago, RaeLea and I met with our boss, who we contract with to provide wellsite geology and mudlogging services on drilling rigs in North Dakota's oilfield. Kathy had just finished constructing a mammoth new headquarters for her business, and she offered to give us the grand tour before we convened in the conference room.
"Oh, that would be wonderful," I admitted, "but we know you are very busy."
Without hesitation, Kathy said, "I'm busy.  You two are busy.  Frank, we're all busy. Come on, I'll show you around."

Kathy Neset is a businesswoman who, over the course of multiple decades of gritty persistence, built up her own burgeoning empire in a male-dominated industry, with a current market share of something like 40% of all drilling rigs in North Dakota.  She was appointed by the Governor to sit on the North Dakota Board of Higher Education, regularly is featured as a presenter at conferences, manages well over 100 employees and contractors, all while remaining active in several different trade and civic groups.
By my humble reckoning, Kathy is a titan of industry in North Dakota.  And yet, in a nonchalant statement she implied that her level of "busy" was not any different than my own.  That really hit home for me.
If I were to write a note over the years each time I have told someone "I'm too busy" when asked to do something, I would have a whole book's worth of wordcount (my first novel is, incidentally, something I have been "too busy" to finish writing…for about two decades).
I'm trying to break myself of the habit of using "I'm too busy" or "I don't have enough time" as an excuse for not accomplishing things which are important to me.  "I am too busy to work on that project today" needs to be an extinct statement.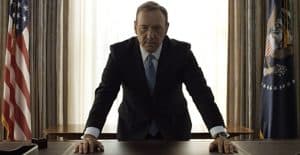 After all, for being perpetually "too busy", I magically find the time to binge-watch "House of Cards" (and consequently force my wife to endure listening to me quote Frank Underwood with my terrible attempt at a South Carolina accent).
So is it truly a lack of time which prevents me from working on the projects which move me closer to achieving my goals?  Or is uttering "I'm too busy" just another way of admitting that I possess poor time management skills?
I am reminded of a quote I mentioned before on this site, and which I remind myself of every day (because it emblazons the header of my Personal Journal):
Our priorities are what we do, not the things we say we do.
I recently listened to an interview with my self-publishing idol, Hugh Howey, in which the interviewer asked him how he was able to write so prolifically, all while working full-time before his writing career became self-sustaining. His answer:
"Basically by giving up video games and some TV shows and not going to the movies as often and things like that, I was spending my leisure time writing."
Essentially, Hugh Howey refused to allow himself to be "too busy" to work on his life goal of becoming a published author.  That is so simple and yet so profound.
There is so much I want to accomplish in life, and such a limited time span to get it done. I am not going to lean on that tired excuse anymore.  I am NOT too busy to achieve my goals.