Last month, we began auditions for the voice actor who will narrate the Ascending Mage series.
We posted audio samples of our top four picks and invited you to cast your vote.
Several hundred ballots were submitted, along with helpful feedback. Everyone had their personal preferences for who gave the best performance resembling their own interpretation of Ember Wright.
Ultimately, the decision was ours.
We wanted a convincing actor who was easy to listen to, exhibited a faster pace to match our page-turning style of writing, and who had experience creating professional-grade audiobooks. Though all the vocal talent was great, the decision became crystal clear.
It's our privilege to announce that we found that perfect voice!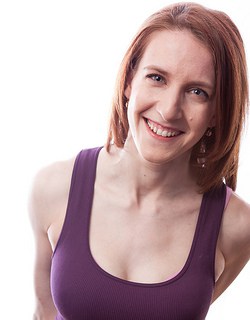 Stephanie Willing is an actress living in New York City with experience in a wide range of audiobooks, commercial voiceovers, and theater. She's adept in various accents, genders, and age ranges—vital, considering the ensemble of characters she'll be portraying in our novels. Because she narrates romance and also writes children's fiction (and our Ascending Mage series is definitely not child-friendly), she'll be recording under the pseudonym of A. V. Caris. She's got a new website dedicated to genres of more mature audiobooks such as ours.
Says Stephanie:
I'm absolutely thrilled that your words and my voice are going to bring this exciting series to life. This is gonna be a lot of fun 🙂
Stephanie is upgrading her recording booth to a Studio Bricks setup. Ascending Mage 1: Changeling Justice will be the first audiobook she narrates in the new studio, with post-production engineering expected to occur in October. The rest of the Ascending Mage novels will follow.
She's working with a dialect specialist to get Ember's accent just right. Stephanie has also been studying North Dakotan accents to ensure authenticity, even though we're convinced that we North Dakotans have no accent; it's everyone else who has one!
In case you missed the poll, here's Stephanie's audition:
Welcome to the team, Stephanie — or should we say, A. V. Caris!  It's so exciting to know that our stories will soon reach a whole new crop of people who prefer reading with their ears.