We're delighted to announce the release of our latest novel!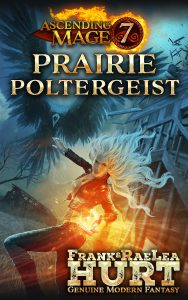 Ghosts may be frightening, but they aren't dangerous to the living. Right?
Strange things are happening on the North Dakota prairie: something's been mutilating cattle. It's freaking people out and making a whole mess of things.
The locals blame ghosts—and the ranchers need help dealing with the problem.
It's time to call in a professional.
Ember Wright knows a thing or two about spirits. She talks with them regularly, after all.
But this one's different. Fatally different.
When the ghost starts targeting humans, Ember races to discover the cause of the spectral menace. She won't like what she finds.
Now it's up to her to stop the prairie poltergeist—if only she can figure out how.
Ascending Mage 7: Prairie Poltergeist is page-burning modern fantasy with a kick-ass heroine and magic that will grab you by the throat.
WARNING: this story is written for mature audiences; it contains adult language and graphic depictions of violence.
Published: March 21, 2020.