It's been a while, hasn't it?
Considering the lack of email correspondence from us and the fact that we're all suddenly living in the early scenes of a post-apocalyptic novel, you would be forgiven for assuming that your authors were floating through the slimy Spirit World, evading blind giant squids and hoping for a certain heroic blonde mage to come rescue us.
There might be something to that, metaphorically.
The release of Ascending Mage 7: Prairie Poltergeist happened just as the pandemic brought about by the virus-that-shall-be-misnamed began to sweep the globe. RaeLea and I obligingly went into lockdown for six weeks (not a hardship for two wannabe hermits), tapping savings to pay the bills as we watched book sales dry up.
We had lofty goals, making use of this time in quasi-quarantine. Chief among them, Ascending Mage 8: Arctic Front would get teased out of our brains and onto the page.
Here we are in late August, and the release date for AM8 got bumped back to September 29. The road to Hell is paved with good intentions.
Being a decent storyteller means being observant, which means being sensitive to one's surroundings. This translates into creating authentic characters in realistic environments. It also means absorbing a lot of negative crap, too.
And let's face it: 2020 has had crap to spare. Truckloads of the stuff.
It proved challenging to focus on creating fiction when the world feels, at times, like it's crumbling all around us. I don't need to recite the list of surreal events happening over these past five months. We're all living it, after all. We can't escape it, not really.
And yet…
Escapism is exactly why we enjoy fiction. It's an escape from the toils of our everyday lives.
Fiction can be instructive as a sort of mental simulation for scenarios in life we (hopefully) won't have to ever experience directly.
Though the way things are going, if a horned deity from Aedynar did show up on Earth and decided to set off a series of natural disasters, would any of us really be that surprised? It is an election year here in the United States, after all.
In other news, as you read this your authors are currently in Minot—yes, that Minot—setting up a vendor booth at our first-ever convention! The iMagicon Convention is going on from this Friday (August 21) through Sunday. Learn more on the iMagicon website. If you're in the area, be sure to find us and say "Bloody Hell!" Or, you know, you could just say "hi".
Here's a glance at the display poster we're going to have out in front of our booth. Does she look familiar?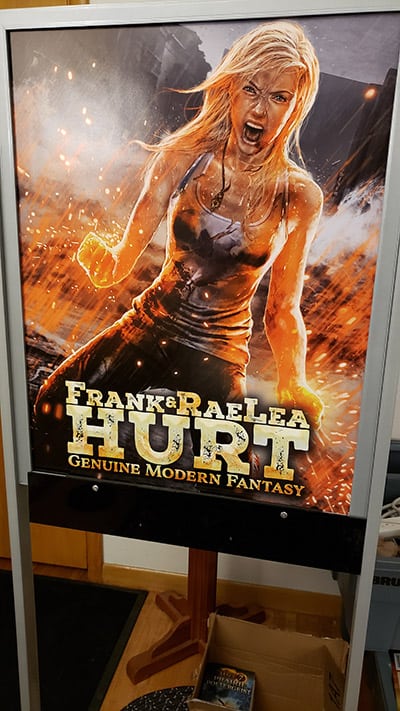 We'll be posting updates on our website at the end of each day—assuming we're not dragged away by adoring fans wanting to buy us rounds of Shiner Bock. We don't just write fantasy, we live it!
And for our part, we'll try not to be such strangers anymore. 🙂